Aarti is a devotional prayer that has devotees standing before the image of a deity or consecrated saint accompanied with singing of devotional songs in unison. This singing is often accompanied by other musical instruments such as bells, gongs and cymbals. In Hindu rituals aarti is a rich and vibrant event, when the deity is adorned with garlands and showered with flowers along with aromatic incense sticks and waving of panchmukhi diya or five-wicks oil lamp around His figure in clockwise.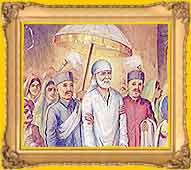 After offering the aarti before the deity, it is brought before all the devotees, who then pass their hands by turns over the sacred flame of the aarti lamp and quickly bring them closer to their faces and heads as a gesture of receiving the auspicious energy from the holy flame.
At Shirdi, there are four aarti sessions all through the day, during which devotees congregate invoking Sai Baba, seeking His blessings. Saibaba's aarti is sung in Marathi. As a living manifestation of the abstract concept of God, Shri Sai Baba is an epitome of the supreme power that guides, protects and support. This yearning that has created a bond of love and faith between Sai and his devotee is expressed through the aarti.
Aarti is performed four times everyday in Saipuram. The day begins with the invocation of Shri Sai Baba with the morning aarti called the
Kakkad Aarti
at 5.15am.
Madhyan Aarti
or Midday aarti is held at 12noon. The evening aarti or the
Sandhya Aarti
takes place at 6.30pm and the day closes with Shej Aarti or Night aarti at 10pm. With Shej Aarti darshan of Shri Saibaba gets over till the next day. Priests attend on him during all these rituals and rites. During these aartis devotees make offerings to Saibaba in the form of new clothes, flowers, fruits and sweets, etc. A little bit of Udi or sacred ash is also given to the devotees as a token of love from Shri Sai at the end of the rituals.