Shri Saibaba is among the most influential spiritual gurus of India, who lived at a nondescript village of Shirdi in the state of Maharashtra. With his miraculous powers and captivating teachings he rules the heart of millions of his devotees, whose number is ever growing with each passing day.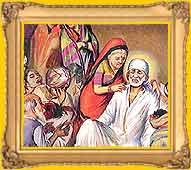 He is also among the most recognizable gurus whose image can be found throughout India, sometimes simply as a fashion statement or kept along as accessories. Worn as pendants and kept in lockets Saibaba makes his presence in all corners of India. He lived in the cusp of two centuries i.e., between 1838 and 1918. During this time Shri Saibaba made a great impact on the psyche of the people coming under his influence. With his simple and trite philosophy combined with his clairvoyant prowess, Saibaba's legacy is still on among his ever growing number of followers.
Today, many religious teachers, groups and organizations promote his teachings and devotion to Sai. Shri Saibaba Sansthan Trust is the most prominent promoter of Saibaba's legacy all across the world. The trust also takes care of the shrines and temples in Shirdi. All-India Sai Samaj, founded by B.V. Narasimha Swamiji, publishes books on Sai Baba as well as administrates the temples of Sai Baba built all over India.
There are a great number of followers of Sai Baba, who have achieved fame as spiritual figures. Among the most popular of such gurus are Upasni Maharaj of Sakori and Meher Baba of Ahmednagar. There have been at least three gurus and two youngsters, who have claimed to be the reincarnation of Shirdi Sai Baba. Among them the most famous is Sathya Sai Baba who lives at Puttaparthi Andhra Pradesh, India. Sathya Sai Baba has immense popularity across the world with devotees thronging from all across the world.
Sri Sai Baba of Shirdi's legacy is also lived through the multitude of literature that has been written on him. Sai literature has the widest possible dimension covering almost every aspect of Saibaba. Scholars across the world have studied the life and philosophy of Saibaba and tried to understand and decipher the quintessential Sai Baba of Shirdi.
Sai temples that are built all over the world are also carrying the legacy of Shri Saibaba of Shirdi. With over 2,000 major Sai temples in different parts of India and 150 abroad, the conviction and faith on Sai Baba are lived and professed enriching the lifestyle of his devotees and mankind at large.