Ramnavami
: March/April
Guru Purnima
: July
Shirdi Vijayadashmi (Sri Sai Punyatithi)
October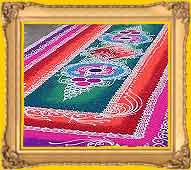 Festivals are great time to visit Shirdi of Saibaba. There are three major festivals that are held in Shirdi attracting thousands of devotees from across the world. The three major festivals celebrated at Shirdi are Ramnavami, Guru Purnima and Shirdi Vijayadashmi. All these festivals are celebrated all across India with equal zest and excitement but at Shirdi they have some other significance. All these festivals have their special distinction to them in the way they are celebrated in the other parts of India. The distinction is the association of Saibaba himself which add to these festivals all new and exciting verve to them.
Ramnavami
Ramanavi is one of the most important festivals celebrated with great excitement and fanfare. In the year 1897 Goplarao Gund proposed holding in Urus in name of Saibaba in gratitude of a child which he was granted after so many childless years. Saibaba conceded to celebrate his urus on the condition that it be celebrated on Ramnavami. This was indeed an ingenious touch of Saibaba bringing together the Hindus and Muslims together. People may know Urus is a Muslim festival that is celebrated to honor a saint.
You can come to participate in Ramanavami at Shirdi, celebrated every year in March or April. This shows the kind of communal harmony that weaves people of different faiths at Shirdi. Ramnavami has equal and enthusiastic participation of both Hindus and Muslims. In Shirdi, two locally historic rituals are carried out during this festival. The sack of wheat that is kept in Dwarkamai is changed and the old one taken to prasadalaya to be used there, and secondly, the dwarkamai flags are replaced. This year that is in 2007, Shirdi is celebrating the Ramnavami from 26th to 28th of March.
Gurupurnima
Gurupurnima or Full Moon is also a wonderful time to visit Shirdi. It is the time to honor the Guru and seek his special blessing. Quite a significant festival in Shirdi Guru Purnima was the only festival which Saibaba has asked his devotees to celebrate. This is the time devotees all across the world converge in Shirdi to seek Saibaba's blessings. There is also Vyasa Puja that is held during Guru Purnima, in honor of Ved Vyasa who wrote the epic Mahabharata.
Shirdi Vijayadashmi
Vijayadashmi is a big festival in Shirdi, venerated as a holy day when Shri Saibaba left his mortal body for heavenly abode. The festival is also celebrated as
Shri Sai Punyathithi
in Shirdi attracting great number of devotees from all over the world. Various religious activities are arranged Great number of people flock to Shirdi during this Festival. During this festival 'Brahman Bhojan' is arranged with Dakashina (Donation to Guru).