Shri Saibaba Sansthan in Shirdi is the governing and administrative body of Shri Saibaba's Samadhi Temple and all the temples that are in this premises. The Saibaba Sansthan Trust also works towards the general development of the Shirdi village.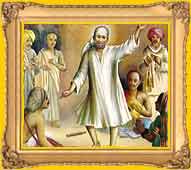 Saibaba Sansthan is also authorized to control and manage the day-to-day activities at the Shri Saibaba Samadhi Temple, providing miscellaneous activities such as accommodation, lunch, refreshments, railway reservations and lot more.
As a full fledged trust the Shri Saibaba Sansthan also runs Kanya Shala(Girls School) and English Medium School, Hospital, Blood Bank, Industrial Training Institute (I. T. I.), Drinking Water supply, etc.
Shri Saibaba Sansthan also has a Sansthan Seva Desk that looks after various activities including donation collection, publication of Saileela Magazine, newsletter publications, maintenance of guestbook and addressing the feedback.
Shri Saileela Magazine is an official periodical of Shri Saibaba Sansthan Trust, Shirdi. A bi-monthly magazine, it covers nearly all the activities of Sansthan including rich spiritual and religious information.