Shri Sai Baba of Shirdi had a great impressionable personality which hypnotized those who came near him. With his miraculous power and simple teachings he had a host of ardent devotees who carried forward his teachings and philosophy to a wide gamut of society. Here we will discuss some of the most prominent devotees of Saibaba of Shirdi.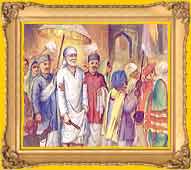 Abdul Baba
Abdul Baba came to Shirdi in around 1890. He came here after a fakir who was inspired in his dream by Saibaba to bring Abdul Baba to Shirdi. On his coming to Shirdi, Saibaba greeted him by saying "My crow has come". A dedicated worker Abdul Baba took care of Baba's mosque and lit the lamps in Lendi. Baba took care of his welfare, and often had him reading aloud passages from the Koran.
Bayajabai Kote Patil
Bayajabai was Tatya's mother and the family had a close association with Baba, who he took as his sister. She had taken a vow that until Saibaba had her food she won't take food. Such was her devotion to Saibaba that she would carry food in a basket and went looking for him to feed him.
Bhagoji Shinde
Bhagoji Shinde suffered from leprosy and yet he was among the closest to Saibaba. He accompanied Saibaba to Lendi garden carrying a parasol to give him shade. Once Saibaba got hurt while thrusting his hands into dhuni, Bhagoji was the one who bandaged the wound and dressed him long after it had healed.
Das Ganu Maharaj
Dasganu was originally in police service and it was during this time that Nana Chandorkar took him to see Sai Baba. Das Ganu wrote about the lives of saints and composed kirtans (devotional songs) which he sang with great fervor.
Annasaheb Dabholkar
Most popularly known for being the author of the work The Sri Sai Satcharitra, Annasaheb Dabholkar was called Hemadpant by Saibaba after a well known poet of 13th Century. His work is a great insight into the life and philosophy of Saibaba.
Hari Sitaram Dixit
Hari Sitaram alias Kakasaheb Dixit was a prominent solicitor another of Saibaba's ardent devotees. Saibaba used to call him affectionately Langda Kaka and removed fear complex from his mind. Kaka Dixit was known for his obedience to Baba's orders.
Dadasaheb Khaparde
Hon'ble Mr. Ganesh Shrikrishna alias Dadasaheb Khaparde of Amraoti, an ardent devotee of Saibaba and was instrumental in bringing Loka Manya Tilak, the great freedom stalwart to Shirdi for Baba's darshan.
Laxmibai Shinde
Laxmibai Shinde was well-to-do woman, who worked in the masjid day and night. Except Bhagat Mhalasapati, Tatya and Laxmibai, none was allowed to step in the Masjid at night.
Bhagat Mahalsapati
Mahalsapati was the one who owes the name of Saibaba as we know it today. He uttered 'Ya Sai,' when Baba made His first appearance at the Khandoba temple along with the marriage party of Chandbhai. Saibaba used to call Mahalsapati 'Sonarda,' and later on 'Bhagat' i.e. close disciple.
Tatya Kote Patil
Tatya Kote Patil's family was one who loved Saibaba for Himself and not for what they got from His divinity. Tatya was the first amongst the devotees who had all the love of Saibaba.
Nanasaheb Chandorkar
Nana Chandorkar was among the most prominent devotees. A Deput Collector by profession, he had the distinction of being one of the very few disciples that Baba directly called to his side.
MadhavRao Deshpande
MadhavRao Deshpande was another of Saibaba's ardent disciples who was quite close of Saibaba.